Tennis Court Asphalt Base Construction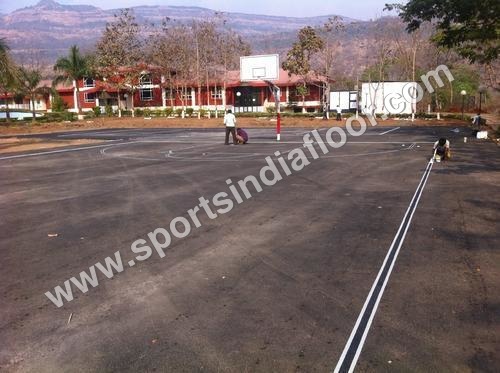 Product Details:
Supply Ability :

As per order Per Week
Price And Quantity
6500 Square Foot

75.00 - 100.00 INR

80 INR
Trade Information
As per order Per Week

2 Week

All India
Product Description
Developing of outdoor asphalt base for ( tennis court / basketball / volleyball court / badminton court/ running track/ multi-sports court)
Factors to Consider Condition of land
Drainage
To keep water away from your court surface we always consider how water flows over, under and around your court. Dependent on location we may install drains in addition to the normal 1% slope of the tennis court surface.
Weather
Local climates can prove to be a hindrance on the court construction process. All acrylic surfaces are very temperature and weather sensitive. If it is too cold (below 50* F) or too hot the acrylic surface will not dry properly. Rain or overcast conditions also can be cumbersome as they prohibit the proper drying of the surface materials.
Building Permits
Building, Electrical and general construction permits, costs and their requirements vary by location. Please consult with Ace Surfaces for more information on your specific location.

Concrete Vs Asphalt
One of the most common questions asked in court construction is whether to choose a concrete or and asphalt base for a tennis court. Asphalt, in some locations may be the least expensive option for a court base, however if improperly built will not last as long as a concrete surface. Post Tension concrete, while more expensive, is typically going to outlast an asphalt surface. Concrete Surfaces will be slightly more rough on the body as they are less forgiving/harder than an asphalt surface. Concrete Surfaces will have a slightly higher initial cost for surfacing due to a 2 component primer that is required for proper acrylic adhesion.
Types of Tennis Courts
Acrylic Hard Courts

The norm in the tennis world – 4-5 layers of textured, colored acrylic paint applied to a concrete or asphalt surface.

Acrylic Cushion Courts
Ranging from 2mm to 8mm thick a cushion court supplies extra shock absorption to the body resulting in better joint health and longer play.
Indoor Courts
Any clay, turf , acrylic hard or acrylic cushion court surface which is applied under covers or rooftops is classified as an indoor tennis court.
Outdoor Courts
Outdoor tennis courts are outside and can be hard courts, cushion courts, clay courts, turf courts or grass courts.
Clay Courts
Clay courts are generally made of crushed shale, stone, or bricks. There are two different types of clay courts, red clay or green clay. Clay courts require daily maintenance, but provide the benefit of slide to the players.
Turf Courts
A synthetic grass surface which is selected when a player wants similar play to grass courts but with much lower maintenance costs compared to grass courts.
Grass Courts

Although originally known as Lawn Tennis, grass courts at one time were one of the main types of tennis court surfacing. With upkeep costs generally higher than most other courts it isn't surprising that grass courts aren't very popular in the US.
Technical specification

| | |
| --- | --- |
| We Provides | Acrylic Flooring |
| Court Style | Outdoor |
| Court Area | Outdoor |
| Floor Thickness | 10" |
| Service Location/City | pan India |
| Court Type | Asphalt |
| Location | PAN INDIA |
| Dimension | 7200 |
| Synthetic Flooring Type | 6 Layers |
| Location/City | PAN INDIA, NEPAL, BHUTAN, BANGLA DESH |
| Brand | SPOSYN |
Get in touch with us